Set of the Previous 12 Issues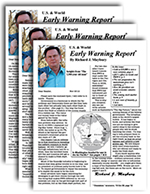 Need to get caught up on what EWR has been covering for the last year? Buying a set of the previous 12 issues is the perfect place to start.
The analysis in EWR is often developed over many months. Each issue building on the last as events unfold and ideas are explored.
See what the analysis has been saying and how we got here. Get caught up on the EWR model today!
Previous 12 issues are available in print only.